Welcome to

Market Lavington

Population 2,213 (March 2011)

There are currently vacancies for councillors on the Parish Council

If you are interested in becoming a parish councillor please contact the Clerk to Council.

Our clerk is Mrs Carol Hackett

Call her on 01225 760372

or email clerk@marketlavingtonparishcouncil.gov.uk

Stay Home
Next meeting?: -
Next meeting?: -
Next meeting?: -
Next meeting?: -
Next meeting?: -
Next meeting?: -
Next meeting?: -
Next meeting?: -
Next meeting?: -
Next meeting?: -
Next meeting?: -
Next meeting?: -
Next meeting?: -
Next meeting?: -
Next meeting?: -
Next meeting?: -
Next meeting?: -
Next meeting?: -
Next meeting?: -
Next meeting?: -
Next meeting?: -
Next meeting?: -
Next meeting?: -
Next meeting?: -
Next meeting?: -
Next meeting?: -
Next meeting?: -
Next meeting?: -
Next meeting?: -
Next meeting?: -
Next meeting?: -
Next meeting?: -
Next meeting?: -
Next meeting?: -
Next meeting?: -
Next meeting?: -
Next meeting?: -
Next meeting?: -
Next meeting?: -
Next meeting?: -
Next meeting?: -
Next meeting?: -
Next meeting?: -
Next meeting?: -
Next meeting?: -
Next meeting?: -
Next meeting?: -
Next meeting?: -
Next meeting?: -
Next meeting?: -
Next meeting?: -
Next meeting?: -
Next meeting?: -
Next meeting?: -
Next meeting?: -
Next meeting?: -
Next meeting?: -
Next meeting?: -
Next meeting?: -
Next meeting?: -
Next meeting?: -
Next meeting?: -
Next meeting?: -
Next meeting?: -
Next meeting?: -
Next meeting?: -
Next meeting?: -
Next meeting?: -
Next meeting?: -
Next meeting?: -
Next meeting?: -
Next meeting?: -
Next meeting?: -
Next meeting?: -
Next meeting?: -
Next meeting?: -
Next meeting?: -
Next meeting?: -
Next meeting?: -
Next meeting?: -
Next meeting?: -
Next meeting?: -
Next meeting?: -
Next meeting?: -
Next meeting?: -
Next meeting?: -
Next meeting?: -
Next meeting?: -
Next meeting?: -
Next meeting?: -
Next meeting?: -
Next meeting?: -
Next meeting?: -
Next meeting?: -
Next meeting?: -
Next meeting?: -
Next meeting?: -
Next meeting?: -
Next meeting?: -
Next meeting?: -
Next meeting?: -
Next meeting?: -
Next meeting?: -
Next meeting?: -
Next meeting?: -
Next meeting?: -
The Wiltshire Mid Branch of the RSPCA, is offering, for a limited period only, to pay a significant proportion, if not all of the cost of neutering cats and kittens to encourage owners who may be reluctant to do this because of cost. Financial support for micro-chipping will also be offered if undertaken at the same time as the neutering operation. The campaign is being run in conjunction with Cats Protection Frome and District Branch.
The campaign has started and will run until 31st March 2022. For more information please click here: RSPCA poster
************************
Market Lavington is a large, friendly and thriving village on the northern slopes of Salisbury Plain, situated about five miles south of Devizes. Market Lavington has always been a lively community, and for centuries was one of Wiltshire's foremost market towns, having been granted a royal charter in 1252 by Henry III.
Although it has all the character and charm of a traditional Wiltshire village, and is set in the midst of beautiful countryside, Market Lavington has always been a working community. Today its facilities include a Co-op supermarket, chemist, butcher, and post office, two hairdressers, a pub & restaurant with accommodation, cafe, takeaways and a number of small businesses, so you can buy almost anything you need in the village. We also have a pre-school, a primary school and a secondary school (all rated good, by OFSTED), a doctors' surgery, a library, a community hall, Old School Hall and our very own Village Museum!
The parish lies at the foot of the north western scarp slope of Salisbury Plain. It originally contained Easterton, now a separate civil parish, and Gore, now in West Lavington. The parish is long and narrow with Gault clay in the north, rising to a ridge of Upper Greensand at about 96 metres at Ledge Hill. This ridge is known as the Sands and was common land for many centuries. In the 18th century its light fertile soil provided suitable land for commercial orchards and market gardening. Half the parish is on the chalk uplands (military area) that rises to about 200m on Lavington Hill.
Latest Parish News
Local Wiltshire Surviving Winter Grant - Age UK Wiltshire
12

Age UK Wiltshire would like to let you know about the local Wiltshire Surviving Winter Grant (SWG), for which we are one of the partner organisations supporting older people to apply for the grant.
The scheme is aimed at older people at risk of fuel poverty and aims to support them by providing a one-off £200 grant alongside holistic advice to help ensure they are maximising their income and receiving support for any other issues they may have.
It has been running on an annual basis for a number of years and is organised and fundraised through Wiltshire Community Foundation. It is likely to remain open until around March 2022 time (but may close sooner if all grants are distributed).
Please note that for working-age people, Wiltshire Warm & Safe (https://www.warmandsafewiltshire.org.uk/) are the partner organisation supporting these clients to apply for the grant (the criteria for working age clients is slightly different).
Ivy Bashing Canada Woods 25/9/21
25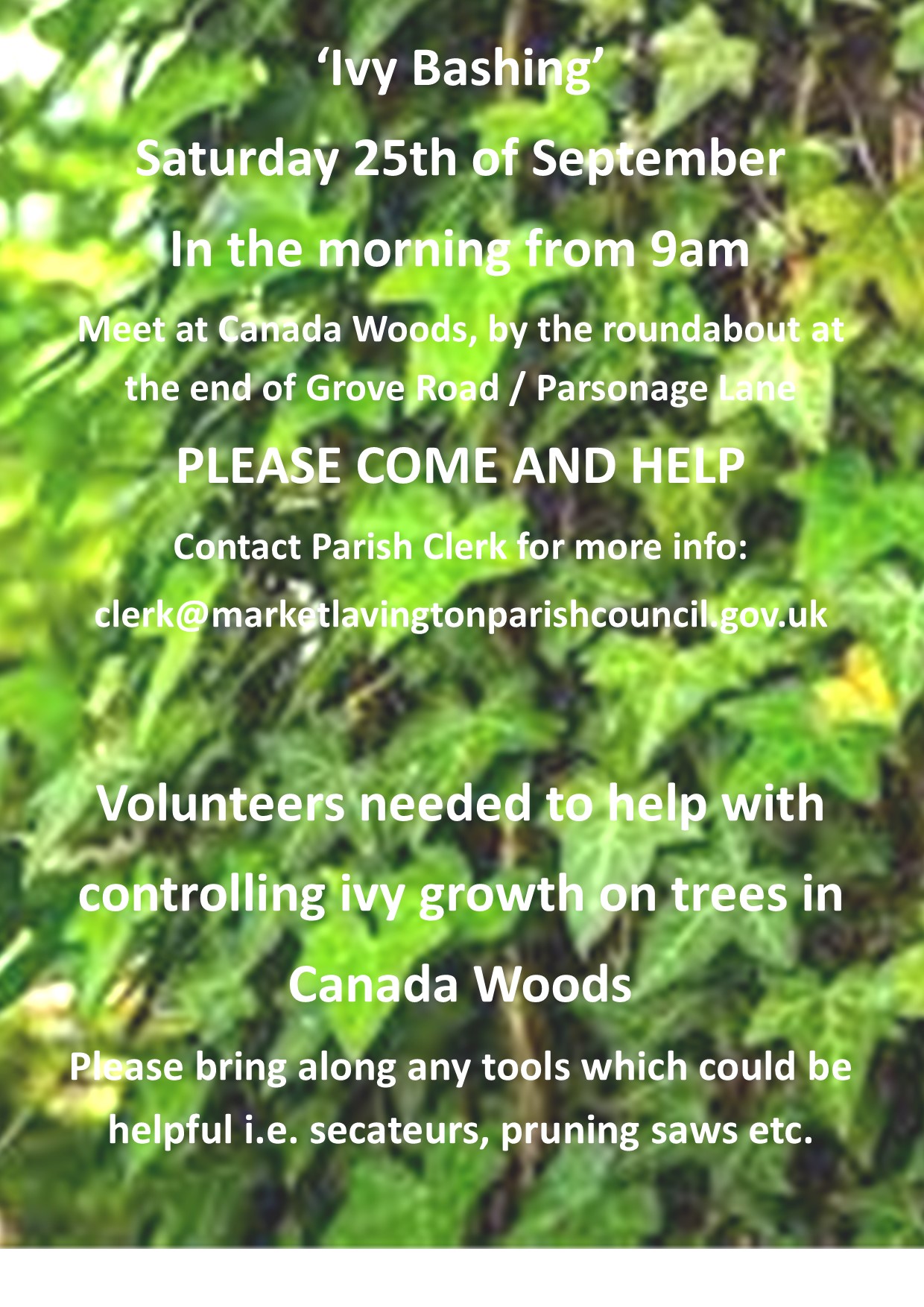 'Ivy Bashing' Saturday 25th of September - REQUEST FOR VOLUNTEERS
Saturday 25th of September, in the morning from 9am
Volunteers needed to help with controlling ivy growth on trees in Canada Woods
Please bring along any tools which could be helpful i.e. secateurs, pruning saws etc.
Meet at Canada Woods, by the roundabout at the end of Grove Road / Parsonage Lane
PLEASE COME AND HELP
Contact Parish Clerk for more info:
clerk@marketlavingtonparishcouncil.gov.uk
°C

%
mph
FRI
° °
SAT
° °
SUN
° °
MON
° °
TUE
° °